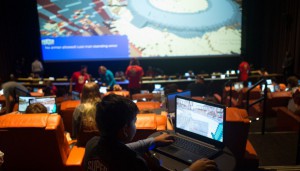 Los Angeles native Julien Wiltshire just won the first ever Minecraft National Championship beating out thousands of other gamers. Julien is part of Super League Gaming which holds competitions in theaters across the nation where you get to play Minecraft of a giant move theater screen! Imagine how cool that would look!
Super League awarded Wiltshire with a Super Bolt trophy and a US$5,000 scholarship prize, while his team won a collective US$10,000 team scholarship prize.
Minecraft National Championship
The first competition of its kind, Super League's Minecraft National Championship attracted players of the open-ended sandbox game to compete in different Regal, AMC, Cinemark and iPic movie theaters. The after-school competition is embarking on a new four-week next session starting February 2, doubling to more than 80 cities across the country.
The expansion falls in line with Super League's plans to reach theater chains globally, following the interactive gaming league's launch this past summer in California with theater-mode events.
How old do you have to be to join Super League and play at an event?
Super League leaves no gamers behind…that being said, most participating children are around 6-18 years old, but gamers of all ages are welcome (as long as they know how to play Minecraft and have it installed on their laptop).
Will Captain Sparklez or other famous YouTubers be at the events?
Follow them on social media channels to stay up to date @JoinSuperLeague.
Find our where the next event is at and buy tickets now!
Hey Gearcrafters! Now It's your chance to share with us, just hashtag #YoGearcraft on your Twitter post with a link or image to your art, creations, videos, servers or whatever and it will appear right on our #YoGearcraft page for millions to see! It's that easy! So what are you waiting for!? Give us a shout out #YoGearcraft!